Buy the Book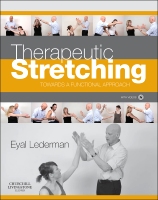 Prepared by an international authority, Therapeutic Stretching: Towards a Functional Approach offers a highly accessible account of the latest findings regarding the role of therapeutic stretching in the management of restricted range of movement (ROM) disorders.
Richly illustrated throughout, this exciting new volume covers the physiological basis of stretching, explores its classification and examines what is normal and abnormal in terms of ROM. Chapters then explain the processes that are associated with ROM loss and recovery as well as what makes stretching effective. The experience of pain, sensitization and pain tolerance in relation to stretching and ROM recovery is also discussed.
Embracing the latest scientific research, this revolutionary book debunks many traditionally accepted stretching theories and associated techniques and supplants them with a more robust, scientifically informed clinical approach.
Accompanied by a range of practical on-line videos and over 150 photographs, this volume will be ideal for all manual and physical therapists, sports and personal trainers, and athletes who require special movement ranges.
Contents
Chapter 1 – Introduction to therapeutic and functional stretching
Chapter 2 – Functional and dysfunctional ROM
Chapter 3 – Causes of ROM loss and therapeutic potential of rehabilitation
Chapter 4 – Adaptation in ROM loss and recovery
Chapter 5 – Specificity in ROM rehabilitation
Chapter 6 – The overloading condition for recovery
Chapter 7 – Exposure and scheduling the ROM challenge
Chapter 8 – Rehabilitating the active ROM: neuromuscular rehabilitation
Chapter 9 – Pain management and ROM-desensitization
Chapter 10 – Stretch tolerance model
Chapter 11 – Psychological and behavioral considerations in ROM rehabilitation
Chapter 12 – Towards a functional approach
Chapter 13 – Demonstration of functional approach in ROM rehabilitation
Chapter 14 – Summary
Lecturers: To order a sample copy of the book, click here.
Sign up to receive e-alerts and newsletters
See the full list of Health Professions titles available from Elsevier.